Alan
Alan's Testimonial:
I came to Marin Weight Loss and Wellness about six months ago as a beer drinking, burger and pizza eating guy with a strong aversion to eating fruits and vegetables. My eating habits were horrible and, really, always had been. Fruits and vegetables were never a regular part of my diet. I'm convinced that these eating habits were a big part of why I contracted colo-rectal cancer at the age of 45. After going through a year of treatment and successfully winning my fight against cancer, I went straight back to my old eating habits. Within several months, I regained all the weight I had lost during treatment, and then some. I knew something had to change, and with a gentle push from my partner, I went to Marin Weight Loss and Wellness for some help.
When I first met with Cassale and Eris, I was terrified! I just knew they were going to make me eat a bunch of horrible things and I would hate it. Well, I was wrong. They listened carefully to my likes and dislikes and worked with my mental hang-ups with certain textures and flavors. They built a plan that not only got me eating fruits and vegetables but also included elements to help cleanse my body of remnants of radiation and chemotherapy.
So, back to now. In these six months, I've learned to eat things that I never thought I would eat. Heck, last week I made asparagus and cauliflower soup…and it was good! I've gotten over some mental roadblocks that kept me from eating healthy. I still eat pizza. I still eat burgers. I still drink beer. But I've learned to limit those foods and surround them with healthier options. I've learned balance in my food consumption. The result is that I've lost 30 pounds, my blood pressure is down, my cholesterol is down, and I feel better than I have in years.
Thank you Marin Weight Loss and Wellness!
Rose
Rose's Testimonial:
My experience at Marin Weight Loss & Wellness has been life-changing, effective, and sustainable. I came to the clinic having gained 25 pounds from emotional eating patterns. As a yoga teacher and wellness fanatic, gaining weight and holding that weight was very hard for me physically and emotionally. I felt uncomfortable in my body and my clothes. I knew all the "right things" to do, but for 2 years I tried intense exercise regimes with little to no changes. I came to MWLW knowing that if I was going to put in another grand effort to feel healthy, I wanted this one to count… and it did! In less than 4 months, with far less effort than I exerted in the past, I have lost 15 pounds and am coming up on 20 pounds! Today I feel light in my body, great in my clothes, and I can run 4 miles on a treadmill like its nothing!
While working with Cassale and Eris, I learned a new strategy for weight loss, that when followed, has worthwhile and effective results. The entire team is so supportive and I know I wouldn't have been able to get through some of the harder weeks without their smiling faces cheering me on. I feel so fortunate to have learned such an accessible strategy for weight management at this time in my life. What I have learned from this program truly is something I will benefit from for the rest of my life. Not to mention, the other benefits I have gained along the way- self-love, patience, will-power, mindfulness, empowerment, strength, diligence, are simply put- priceless! I came to MWLW for weight loss, but ended up learning so much more!
Thank you Cassale, Eris, Gail and the whole MWLW crew for supporting my journey!
Sally

Sally's Testimonial:
I had been slender in the past, and saw myself that way - but the mirror and the scale reflected something different in recent years: that weight had crept on until I weighed 165 pounds.! I decided I'd had enough of that and I sought out Marin Weight Loss and Wellness, to do something about it. The staff were instrumental in supporting me to reach my health and weight goals.
The Marin Weight Loss & Wellness program offered me medical guidance, emotional support and encouragement, special foods, a detailed plan and importantly, explicit education in how to structure my food intake to achieve my goals in a healthy manner. As a result, over the past 5 months I was able to lose 30 pounds and I have had a permanent change in how I see food and nutrition. The last 10 pounds were the trickiest and the staff supported me all the way to my goal.
I thank Dr. Altschuler, Cassale, Eris and the support staff for helping me achieve my goal!
Linda

Linda's Testimonial:
A year ago I realized that I had been absent from my own life. I was sleeping all afternoon and stuffing my emotions and myself with food I could not taste - binge eating - never feeling full. Unhappy, I knew I had to ring my own doorbell and wake up!
I found life saving support at Marin Weight Loss & Wellness.
Today, after calling MWLW I have lost 50 pounds, dropped 4 pant sizes and have a healthy relationship with food. I stand instead of sit at work, I keep moving, walking with new energy.
I learned how to sit with my feelings instead of eating mindlessly. I now practice quiet intent, allowing myself to let go of old habits and behaviors.
I am now present and aware of my body, how to nourish not just my hunger but my emotional well being.
Dr. Gail, Cassale, Nicole, Dawn and Eris, I thank you with my entire being. Your collective, loving and genuine support over the past year has allowed me to believe I am strong and capable of reaching my goals. I am so grateful to all of you!
Cassale, you are a precious gift! You have changed my mindset, gently encouraging my success with compassionate personal eating plans and weekly reflections.
Nicole and Dawn, I appreciate every time you say hello and smile, welcoming me with laughter and joy. Dr. Gail, Eris, your concern, knowledge and care are uplifting!
A wise woman (Cassale) once told me, we have a finite number of days in our lives and only we can choose how to live them!
I choose joy and health.
Love Linda
P.S I also chose eggplant!
Velia

Velia's Testimonial:
What was life like before your weight loss?
I was embarrassed by my weight with no motivation to go out or dress up. I used to become so stressed and frustrated when trying on clothes, nothing fitted!
What was the program like for you?
I have tried different programs before but this has worked so well. Cassale is able to give you the support and motivation you need, it's like nutrition therapy. I have been able to make the changes that were necessary to reduce my weight and maintain the weight loss.
As I changed my habits my family became healthier and our younger daughter was able to lose 25lbs right in time for her graduation. What also helped me was the support of my family, encouraging me all the way through.
How has your life changed?
I have increased energy and am more mindful now, making much better choices. I give priority to preparing and cooking healthy meals, exercising regularly and always thinking about what else I can do to improve my health.
'I put on a bathing suit for the first time in years and felt confident and excited'
What was it like working with Cassale?
Working with Cassale was amazing, I looked forward to seeing her every week and learnt so much. I have really appreciated all her support during this process. Cassale has assisted me in learning how to have long term weight management and I now have a lifelong commitment to be as healthy as I can!
'I learnt from Cassale that health and wellbeing is also a life long journey for her as well'
What were your overall health benefits?
When I came into Marin Weight Loss & Wellness for the first time I had fatty liver, hypothyroidism, and Type 2 Diabetes, I am no longer taking medications for any of these conditions and my tests are now negative for all of these diseases. I used to suffer from debilitating headaches – but no longer! My skin & hair have improved and I no longer have knee pain that used to prevent me from exercising.
'As I dropped my weight my health improved dramatically'!
Tasha

My Weight Loss & Wellness Success:
I started going to the Marin Weight Loss & Wellness Center after gaining way too much weight after my pregnancy. I knew I needed motivation and to change my eating habits but couldn't do it myself. After 4 months, I am now finally to a healthy weight and have lost about 20 pounds! I feel better than ever, have more energy and I'm healthy for my family. What helped the most was changing my mindset when it comes to food. I used to eat tons of pasta, pizza, and starchy foods. Now I actually prefer to put healthy foods in my body such as fruits, veggies, and healthy meats and fats.They provided me with delicious recipes and a plan on how to realistically implement healthy eating into my crazy life. I am forever grateful for Cassale, Eris, and the whole team for being so positive and kind throughout the process!
Cari

My Weight Loss & Wellness Success:
With the support of Marin Weight Loss and Wellness, I have lost 40 pounds! Now I am learning to maintain the weight loss with a new way of nourishing my body and overall health. Dr. Altschuler, Cassale and Eris have played an integral part in my journey to realize a more healthy life for myself!
When I came to Marin Weight Loss and Wellness I had horrible eating habits and a significant amount of stress in my life that included growing teen boys, stressful work life and my partner was nearing the end of a year's worth of cancer treatment (happily, he now lives cancer free). Needless to say, I was overwhelmed! I was facing a big commitment to myself and wondered, can I really do this? Once I realized it had taken me a long time to learn to eat in an unhealthy way, I finally was able to accept that I was going to have to allow myself the time to learn new healthier ways. I was supported with compassionate nutritional counseling, meal plans, shopping lists and menus full of flavorful foods. I was also able to look at the stress in my life and slowly eliminated what I could and incorporate ways to cope with the stress that remained.
My journey started eight months ago and I carry on today with new skills to live the healthiest life possible. Along the way, I have not been even close to perfect in my everyday choices, but everyday I am willing to try again. I have learned to not be too harsh with myself when I am not perfect. When I find that my inner critic is speaking up, I hear Cassales' voice (Aussie accent included), reminding me to "be kind to yourself". I am truly thankful for Marin Weight Loss and Wellness for the invaluable service they provide.
Sincerely, Cari C.
Tej & Shruti

My Weight Loss & Wellness Success:
At the time we didn't know it, but our journey towards finding our way to Marin Weight Loss & Wellness began almost five years ago. In that span we went from being active, generally healthy individuals to sedentary, over-tired parents. Working out was replaced with longer commutes, lunch was eaten at our desks, and sleep was replaced with crying babies. Trying to balance work life and personal life began to take its toll on us and before we knew it, we were overweight, unhealthy, and unhappy (although being overweight and unhealthy together is better than nothing - right?).
As new parents, we wanted to take our daughter out as much as possible - let her experience her new world - but there was always an excuse - we were either too tired, too embarrassed (no clothes that fit), or anything else to keep us at home. We avoided taking pictures because we didn't like what we saw staring back at us. After the birth of our second child we knew we had to get in shape, if not for us, then for our kids. We tried everything - eating healthier, exercising, sleeping (or at least getting to bed earlier) - nothing seemed to work. It felt like we were in an endless cycle of putting on weight. Finally, a desperation Google search led us to Cassale - and thank goodness!
Marin Weight Loss & Wellness has changed our lives forever! We have learned how to eat - not only portion control, but also the nutrition behind the food we eat - and we eat a lot! Being vegetarian can be difficult when looking for various sources of protein - but we have had fun researching and coming up with our own recipes and trying out new foods. Going through this transition together has also been crucial - doing this separately would have been impossible. We have leaned on each other at various times to keep each other motivated, and together we have made sure that no excuses get in our way. Our energy has increased tremendously, and the pain in our knees & back have disappeared. The commute still sucks, work hours are still long, but our attitude and approach have changed. We take every chance we get to be outdoors with the kids, and hopefully our new knowledge of taking care of ourselves will pass down to them. Thank you Cassale and everyone at Marin Weight Loss & Wellness for your wealth of knowledge, care and commitment in helping us succeed!
Thank you Cassale and Marin Weight Loss & Wellness staff.
Bob

My Weight Loss & Wellness Success:
Most of my life I didn't have to worry about my weight for whatever reason until the last 5 years or so. I wasn't a weight watcher but I had started to put on a few pounds nothing too terrible. I'm gaining a few pounds. "l better watch what I eat" I told myself and I did. I watched it and I ate it.
Recently I got on the scale, I was heavier than I had ever been! I was only about 15 pounds overweight but it really got my attention. I was in the early stages of becoming a "fat boy"!
I went for a consultation at Marin Weight Loss & Wellness and I left feeling kind of excited! The following week I met with Cassale, this was the beginning of a new way of life for me and best of all it was something I could do.
I really can't say enough about Cassale, she has been there for me in a way I can't explain. She showed me how I could eat and cook good food that I like with lots of options. Ok, I at the time I decided to take that first step. I was 5'10" and 190 pounds today I'm at 173-74.
This is by far one of best things I have done for myself! Energy? I still enjoy my naps but now I'm doing things like cleaning my garage, rearranging my closet, even deleting stuff from my computer, all because I FEEL like it. Life changing.
Thank you Cassale and Marin Weight Loss & Wellness staff.
Kristin

When three separate doctors are floored by your weight loss -- both proud and astounded at the same time -- you know something is working. I have energy, stamina and the drive to be in my life now. My husband and children have noticed not only my weight loss, but the happiness, control, and sense of self that I have regained. They eat the healthy dishes and snacks I now prepare- no complaints, only compliments! I know I've changed their lives by changing mine. I can't explain why it's been easy-- allowing for flexibility to go with me whether traveling or dining out, or when there's been a bump in the road, a seemingly fast course-correct has been put in place, but it has been. I know I will always worry about my weight, but with the tools Marin Weight Loss and Wellness has given me, I now have the power.
Having always battled my weight, this past summer I hit the proverbial wall. I was at my highest weight, and my lowest point. I knew it was time for a reset, and by chance found Marin Weight Loss and Wellness. From the first phone call to the first consult I knew it was right. The support, guidance, plans, and knowledge I have received have been second to none. Coming from a place of hopelessness Dr. Gail, Cassale, and the rest of the team built me up, fueled me with plans and recipes crafted from the best foods, and have set me on not just a journey but back on track within my own life.
– Kristen
Cathleen
I love the program and staff and would recommend it to anyone
My Weight Loss & Wellness Success:
Turning 50 years is a big deal. Well at least it was for me! That year had big changes for me. New job. Desk job at that. Youngest child moved out of state to go to college and I had recently divorced. So, finding myself alone more frequently then I anticipated lead to major emotional eating. I tried to control it, deal with it myself for several months. After all, I have tried every diet, weight loss plan, fade, gimmick on the planet. I was finally tired of losing the same 20 pounds every 2 to 3 years. I was yo-yo dieting and I was convinced it screwed up my metabolism. So, I finally decided I needed help, and not something that I had tried before because obviously it didn't work long term, at least for me. I needed someone to help me, coach me, steer me in the right direction. Well, I found it and I couldn't be happier with the results. It was a long, sometimes frustrating process over the last 6 months but the staff at Marin Wellness have been nothing but supportive and caring. From the minute I walked in Dawn and Nicole were very friendly and helpful. Cassale is awesome! I can't say enough but her expertise and wisdom. She always found a solution for every issue I was having. Dr. Gail is compassionate, caring and a realist. She made me look at what I was doing and why I was doing it and give my lots of help and suggestions to change the things I needed to change.
The whole program is awesome and I have learned so much about myself and learned tools to keep the changes I have made for life. I love the program and staff and would recommend it to anyone that feels they need help with weight loss or getting healthy in general.
Katelyn
Marin Weight Loss & Wellness Center is a game changer!
My Weight Loss & Wellness Success:
Marin Weight Loss & Wellness Center is a game changer! After years of struggling with my weight and attempting what feels like every possible diet out there, I made the choice that enough was enough! My weight has consistently fluctuated over the years and each time I would lose weight, I found myself gaining everything back, plus some more. I needed more than a diet "trick" to drop the weight, I needed the education on how to make a lifelong lifestyle change and some support in doing so.
A family member had heard about the program that Marin Weight Loss and Wellness Center had to offer, so I figured why not give it a try. At my initial visit, I knew I had found the perfect match for me! The staff was incredibly welcoming and the nutritionist, Cassale, had me hooked! Her warm, understanding and calm demeanor were not only welcoming but also incredibly comforting. She helped me select the personal plan that would work best for me and my lifestyle.
I met with Cassale weekly and had check-ups with Dr. Gail Altschuler along the way. We would set weekly goals and discuss how I planned to achieve them. The entire staff has been vital members in helping me achieve the weight loss and find my new way of life. They have been my biggest supporters and people that I look forward to seeing each week. Cassale has given me a lifelong education in health and nutrition, something that is absolutely irreplaceable. I have a new understanding of what I am putting into my body and the importance of maintaining this healthy and positive lifestyle! Not to mention, I am now quite the cook!
I cannot recommend this center enough! I am forever grateful for all that I have learned and the life-changing effect it has had on me. If you are wanting to make a change but are unsure of how to do it, just walk in that front door! Once you meet this supportive and sympathetic team you, too, will be hooked just as I was. They have forever changed my life in the best way possible!
Allison
I can't say enough about the center, you can't go wrong here
My Weight Loss & Wellness Success:
Can I just tell you how much I love the Marin Weight Loss & Wellness Center! I have been a Yo Yo Dieter since my late 20's. I would lose the weight pretty rapidly then gain it all back + 10-20 lbs. It was very discouraging and gave me a negative self esteem.
Now in my 70's I was nearly 200lbs. once again. I tried on my own to get the weight off but it was the same old pattern. This time I went to the internet to find a positive weight loss center. My first visit was awesome, Nicole, Dawn and Heather in the front office were so friendly and cordial, it was obvious they enjoyed their jobs. Then I met with Dr. Gail Altschuler who set up a personal plan for me. She was very pleasant and really listened to my concerns.
I met each week with the Nutritionist, Cassale. I can't say enough about Cassale, she is warm, charming, personal and really knows HER STUFF. Professional in a totally supportive manner, suggesting goals each week and then follows through the next week to see if I could adhere to the dietary plan and other lifestyle suggestions. She is just so cheerful and never negative.
I look forward to my next visit, to be around such positive, cheerful people, this has been key to getting the weight off. There is no fixed plan, they work around you and your needs.
Nicole, the Office Manager is a resource for everything, she suggests different products and even helped my with my I phone, at 71 I am not a techy! Dawn has also researched many different things for me, I can't say enough about the center, you can't go wrong here, these are just a few examples of the supportive, encouraging environment.
TR
Knowing that each week I am one step closer to my goal is so rewarding!
My Weight Loss & Wellness Success:
I don't even know where to begin when it comes to expressing my gratitude and appreciation for this place. You are welcomed into a world of no judgement and all the support that you could ever ask for. I tried so many diets and options, but by far this is the best place that I have ever been to. Knowing that each week I am one step closer to my goal is SO rewarding!
The most important thing to remember is that weight loss takes time and a strong motivation to do it, AND just like many others, I thought of every excuse in the book not to join a program like this (or any other diet program for that matter) but it was the BEST decision I ever made.
I am forever grateful to Cassale, Nicole and Dawn for everything they have done thus far. Their kindness, ability to make me laugh and be the rock that I have needed has been the best reward that I could ask for. THANK YOU!
Brandi
Marin Weight Loss & Wellness has been a life changer for me.
My Weight Loss & Wellness Success:
Marin Weight Loss & Wellness has been a life changer for me. I reached an uncomfortable weight and after losing and gaining back 6-8 lbs several times I decided I needed extra help. While looking for a local Weight Watchers group the Marin Weight Loss & Wellness Center came up instead. I was so impressed with the testimonials on their website I decided to give it a try. I have finally been able to lose 18 lbs and have high confidence I'll lose the remaining amount I've planned on. I've also gained the confidence I've never had that I can keep it off long term. This is the first time dieting I have not felt hungry all the time. Marin Weight Loss has taught me important skills, like making sure I get in my snacks — that has been key. They have also taught me the right things to eat in combination and this has made a huge difference in keeping my appetite in check. I'm thrilled with the results and with my new level of confidence in long term weight management. I highly recommend their service.
Dawn
My journey continues!


My Weight Loss & Wellness Success:
On June 19, 2013, I began my journey with Dr. Gail and The Altschuler Center for Weight Loss & Wellness.
I had some specific chronic stomach obstacles, so we started out slow. Working with Dr. Gail I was able to learn new eating habits that worked within my limitations.
I've had success on the scale and disappointments as well.
While getting healthier with my stomach, I strayed from the path of success after losing 30 lbs.
By March 6, of this year I had regained all but 9lbs of my weight.
One day after listening to Dr. Gail and Cassale discussing a cleaner way of eating I recommitted myself to learning a better way of living.
I now eat fresh fruits and vegetables, I grill my own meats, started making salads for lunch that are so pretty and healthy I take pictures because I am so proud! I was a microwave kind of girl!
It all started with being ready again and having loving supportive people behind you like I do today.
I can't tell you what happened on that March day to change my willingness but as The Altschuler Center has transitioned to Marin Weight Loss & Wellness I too transitioned to a new me achieving a 30lb weight loss again.
The scale though is not the success. The success is how I feel when I wake up rested, how my face looks in the mirror with a happiness and new glow, it's how my clothes fit and last but not least the new choices I've implemented in my life. I go to bed at night with less food regrets and proud of my success's.
Thank you, Dr. Gail, and Cassale for all the new information and whole food choices that have changed my life.
My Journey continues!
Jean
I continue to manage my weight loss of 70 pounds.
My Weight Loss & Wellness Success:
After almost three years of starting Dr Gail's weight loss and maintenance program, I continue to manage my weight loss of 70 pounds.
I exercise every day and have a structured plan of eating which also includes some of Dr Gail's high protein products. I am happy every day with my weight loss and the ability to manage my eating.
Patricia
I have said goodbye to 22 pounds and am working on saying farewell to more weight loss.
My Weight Loss & Wellness Success:
I am 61 years old and very concerned about my health. I decided to do something about it and had seen the results a friend of mine had at Marin Weight Loss & Wellness.
At my first consultation, I felt at ease speaking with Dr. Gail Altschuler and Cassale Sherriff, the nutritionist, about how I had arrived at my then weight. They really listened and outlined what my options would be.
Since that visit I have learned to make the right choices when I go out to dinner or at friends. I have said goodbye to 22 pounds and am working on saying farewell to more weight loss with the continued support of Marin Weight Loss & Wellness.
The staff are warm and welcoming, Dawn and Nicole are the best. They are very helpful with any questions about the program. I always looked forward to seeing them.
THANK YOU MARIN WEIGHT LOSS & WELLNESS FOR ALL YOUR SUPPORT!
Dara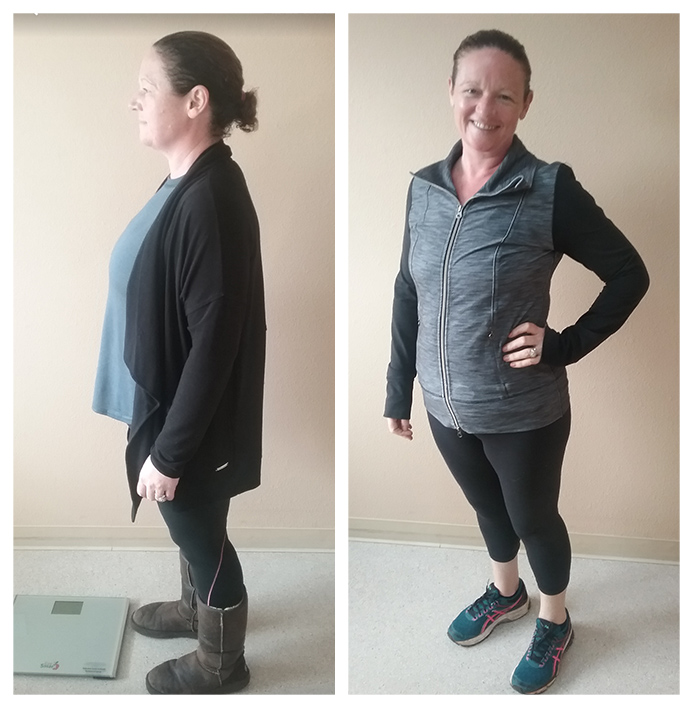 In just three short months Cassale and her team have helped me to lose 30lbs!
My Weight Loss & Wellness Success:
In just three short months Cassale and her team have helped me to lose 30lbs!
I have a sensitive stomach and a lot of weight loss products and nutritional shakes upset my stomach.
Cassale has worked tirelessly to help me find the right combination of Whole Foods, natural supplements and self discipline.
Cassale has a wonderful whole food and natural approach to weight loss. It's not easy getting started but when you actually see results so rapidly it gives you the motivation to keep going. I would highly recommend Cassale's program to anyone who is looking for a healthy and long term weight loss plan.
Thalia
I have seen a 20-pound weight loss
My Weight Loss & Wellness Success:
I came to Marin Weight Loss & Wellness looking for guidance in my struggle to lose weight. I had tried everything to lose weight without success and Dr. Gail Altschuler came highly recommended by a few of my friends. I joined the 12 week program and began seeing results immediately, which motivated me to continue.
With the support from her fabulous staff and the products available, I have seen a 20 pound weight loss and I feel and look better than I have in a long time. I just signed up for a second session to continue on my path to success.
Dr. Gail Altschuler taught me about healthy eating habits, the value of exercise, and the importance of living a healthy lifestyle. She is extremely supportive and believed in me every step of the way. The benefits have been priceless and I have more energy, am happier, more confident in myself, and feel more focused and successful in my work. This program is fabulous – it's a lifestyle change, not a diet.
Dr. Gail Altschuler is supportive and encourages me regularly. Her demeanor and bed-side manner is calm, positive, thorough, attentive, flexible, and personal. I always look forward to my visits with her and setting up new goals for myself.
Ed
I lost 40 pounds and cut my insulin in half
My Weight Loss & Wellness Success:
I first saw Dr. Gail Altschuler in June 2012, about 3 years ago. From the time of my first visit, I lost approx. 40 Ibs. In my case, that represented around ¼ of my highest weight.
It took me 10 months to lose the 40 lbs, and I have kept it off.
The key to keeping the weight off is a total lifestyle change, including what I eat, timing of food intake, and continual exercise, in my case mountain biking. I supplement my diet with protein bars and shakes, purchased from Dr. Gail Altschuler's office.
I am 65 and have Type II diabetes, which is prevalent in both sides of my family. After years of oral medication, I was put on insulin about 10 years ago. Unfortunately, the education that I had been given relative to insulin was insufficient and ineffective. What Dr. Gail Altschuler provided me, and no other practitioner had, were the educational tools to understand the relationship between insulin, food types, and weight. The first thing Dr. Altschuler said to me was "cut your insulin in half", which was shocking to me at the time. She told me quite simply that I was feeding my insulin – and she was right!
The most important benefit of working with Dr. Gail Altschuler was not only figuring out what worked for me, but the reasons why. With education, my knowledge of the implications of the lifestyle change will always guide me.
Flecha Tovar
The plan changed the course of my life forever
My Weight Loss & Wellness Success:
I did it!! I won the state title of Ms. Hawaii USA!!! And I truly don't think I could've done it without Dr. Gail Altschuler! I am off to Ms. America in August! Part of my competition was physical fitness.
The plan she put me on truly changed the course of my life forever.
I don't feel I would've had the confidence to proceed if it weren't for Dr. Gail Atschuler and her work. Her guidance and caring truly change the course of my life forever.
Dreams really do come true, with perseverance, dedication to your diet, exercise, and nourishment of your brain as well. It is so great to work with Dr. Gail Altschuler, and above all, it means a lot to me to make her proud.